If you have a rescue story to share, let us know. You could be in the running for a VPN T-shirt!
Flight of the 3-legged Chihuahua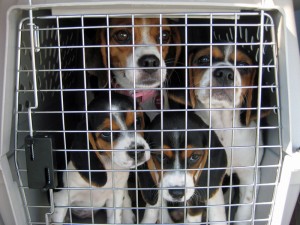 When volunteer pilots Rick Gutlon, Barry Shultz and Matthew Helmsteadt realized how many requests there were to move dogs out of NC over the weekend of October 18, 2014, they reached out to three different rescue groups and combined 9 dogs onto one flight. The manifest included (2) 15# lab puppies, (1) 40# lab mix, (4) beagles, (1) miniature pincher and (1) 3-legged chihuahua!
"Our objective was to consolidate resources and make things as easy as possible for the rescuers" stated Rick Gutlon, a volunteer pilot based in Durham, NC, "there is a lot of flight coordination that takes place behind the scenes in-order for a multi-leg, multi-pilot, and multi-state transport to work." Making certain everyone is at the right place, at the right time, with the right dogs and the right paperwork can be a challenge. And then there is the weather that can put the best intentions on hold, even for flights of a few hundred miles.
"A successful transport is a partnership" continued Gutlon, who has flown forty-one Pilots N Paws missions since 2011. "Saturday's transfer went off without a hitch and we have a lot of people to thank for being organized on the day of the flight." Their primary rescue contacts included Dawn Tucker (For the Love of Dogs), Colleen Fennell (Save A Dog A Day), and Kristin Brinson (Wilson County Animal Shelter). Many others were involved during the staging at Rocky Mount Wilson in NC and at the various drop-off locations.
Pilot Barry Schultz, based in Indian Head, MD, flew the second leg of the flight to South Jersey Regional Airport after meeting Rick in Tappahannock, Virginia. This was Barry's thirty-second rescue flight. "It's great knowing you're not only saving a dogs life, but getting them to a place where they'll be well taken care of. You can see it in the dogs face … they sense something good is happening."
Pilot Matthew Helmsteadt flew the last two legs with stops in Groton, CT and Long Island, NY, his home base. This was Matt's first Pilots N Paws rescue. "It was a wonderful experience doing something I enjoy while helping the dogs. I brought along a friend and she too was thrilled" he wrote shortly after arriving home.
"I often hear us (pilots) referred to as heroes" Gutlon said, "but the real heroes are the rescue groups that work tirelessly to save and then place these animals. The trust that develops in the short time we are with the dogs can be quite remarkable; I'm convinced each one understands we are there to bring them a better, if not another chance, at life."